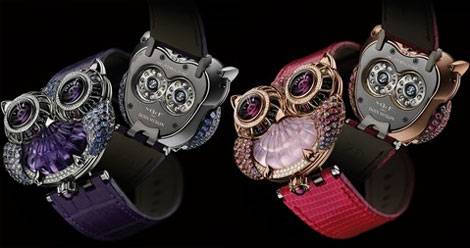 Deep Thoughts, MB&F, Uncategorized ←
The risky JWLRY Machine
I had my blog post all planned out today.  It was going to be a defense of the JWLRY MACHINE, our collaboration with Boucheron.  When we were ripped to pieces on the watch websites and forums for creating a piece of jewelry and accused of jumping the shark, I was going to plead our case.

I would explain how the purpose of the collaboration was to create something that neither MB&F nor Boucheron would do otherwise – a piece of truly three-dimensional haute joaillerie powered by our Machine.  Poetically, it is the reverse Opus.  With Opus, Max was at the helm of Harry Winston, the jeweler, approaching crazy watchmakers to collaborate.  Now, with his own Horological Laboratory, he is on the other side of the table.  I would insist that the piece actually fits very well with our ethos – it truly is a jewelry machine.
Then a funny thing happened: everyone (well almost) loved it.  On both forums where I was expecting to get slammed the most, Timezone and Purists, we received heaps of praise.  They completely understood the point of the piece.
…Bold, Brave, and Beautiful – Well done on an innovative piece of horological art…
I must say, as a long time member of the internet collectors forums, I am really proud of the maturity and intelligence they have shown.  I underestimated everyone.  Internet forums are often given a bad rap for their members acting impulsively and being overly critical.  In this instance, they demonstrated themselves as truly well-informed consumers who have taken time to fully grasp the piece before commenting.
The moral of the story for brands is that you can take risks!  If you stay true to yourselves and create amazing products, people will realize the merits and reward your risk taking.