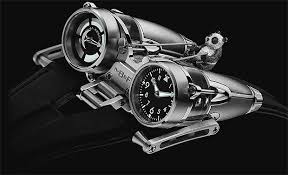 Deep Thoughts, MB&F, Uncategorized ←
The Modern Haute Horlogerie Watch
Hope you all had a great weekend.  It's Columbus day here in the US, so rather than write a full post I thought I would share this terrific article by Jason Heaton on www.askmen.com.  If Jason's name sounds familiar it is because he also writes for our friends at Hodinkee and Gear Patrol.
In the article, Jason takes on what I like to call "Contemporary Horology", explaining its roots, what it is and isn't, and then very kindly choosing our HM4 as the archetype.  I especially like this list of what true Contemporary Horology is NOT:
Traditional: A modern haute horlogerie watch, by definition, should not bear the conventions of watches that have come before it, except perhaps, for ironic effect.

Widely acceptable: Marcel Duchamp, Jackson Pollock and Philip Glass were all derided, spit upon and criticized by art collectors, critics and the general public. Modern haute horlogerie watches face much of the same reaction. If they don't, they probably don't meet our criteria.

Common: You won't see a modern haute horlogerie watch on the A-Train anytime soon. First of all, it won't appeal to most people, is likely impractical for everyday wear and not affordable to the common man.

Inexpensive: Nor to say that these watches need to be expensive. But if a watch is truly pushing the limits of modern design, technology and build, it probably cosst a lot to make. Therefore, the prices of these watches are typically in luxury automobile territory.