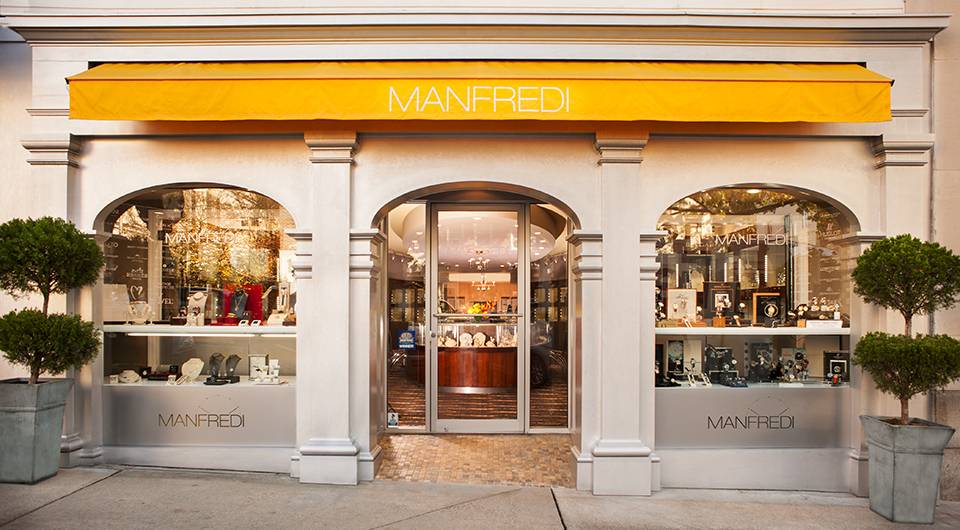 Deep Thoughts, MB&F, Retailers, Uncategorized ←
Retailer Week: Manfredi
When I came on board with Max, clearly we needed to open a few more retailers.  The challenge was that we had no connections at most of the stores.  Luckily, I have no shame whatsoever in cold calling or showing up somewhere unannounced.  I would never pressure anyone to become a dealer, either they get it or they don't, but it was important for me, in the beginning, to at least be acquainted with all of the right players so that they could make their own decisions.
Manfredi is located in Greenwich, CT on the main street of stores.  Greenwich is like a small town, and Manfredi feels like a neighborhood jewelry shop.  It just so happens that the neighborhood is one of the wealthiest in the world, and the store has some of the most spectacular brands and inventory in the country.  The owner, Roberto, has as good a reputation as you will find in this business.  He does what he says when he says 100% of the time – never overextending himself so that he can always follow through on his commitments.  That is a philosophy both Max and I share, so this seemed like a perfect fit.
Before the Geneva show one year, I cold called the store.  I spoke to Roberto who was familiar with MB&F and told me he would let me know if he had time to stop by our suite.  Sure enough, a few days later he called back and made an appointment.  Then he showed up on time for his appointment.  Eventually, after meeting us a few times and feeling comfortable with the brand, he placed an order.  This may all sound simple, but I cannot tell you how often this is not the case.  So many people never call back, miss appointments, keep things hanging.  Or on the other end, we have dealers that we know have no business carrying MB&F who rush in and want to place an order without thinking it through.  Luckily we are not looking to make a quick buck, so we turn them down, otherwise that is how you get too much product out and pieces all over the secondary market.
In any case, here was a guy who was reliable, fully thought through his involvement, committed only after he was sure that we would have a mutually beneficial relationship.  How could we not love it?!  We shipped our initial order there earlier this year – our first representation on the East Coast.  Well worth a short trip from anywhere in the area.
So that's it for Retailer Week.  I hope it was interesting to hear about how these retail partnerships are formed and what the selection process is like.  In the end, it is all about the people.  Some brands will open any store that will place an order and pay for it.  For us, we want to be in the right places, with the right people who we know will represent the brand properly and can sell a reasonable amount of Machines consistently.  If you start selling to stores that can sell their first few pieces easily but have to majorly struggle and discount to sell any more, it is not beneficial to anyone and kills the brand in the long run.  Again, thanks to Max, I am able to always stay patient, focus on the longterm health of MB&F, and not chase money.  I believe that is one of the most important reasons you will see MB&F as a major player long into the future.