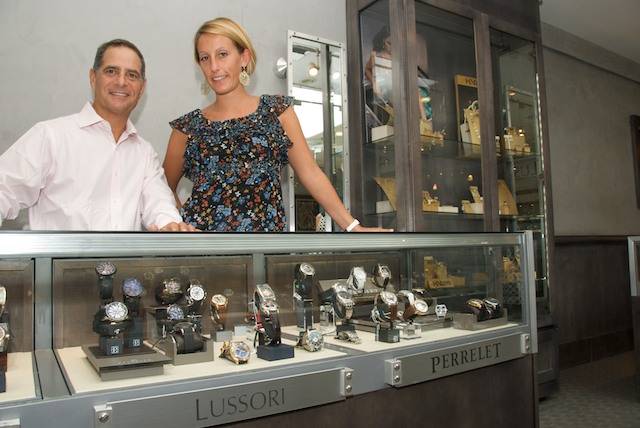 Deep Thoughts, MB&F, Retailers, Uncategorized ←
Retailer Week: Lussori
Last year I received an invitation from Lussori to join them in their store during the Pebble Beach car shows.  Generally I turn down offers to appear at stores other than our Authorized Dealers, but this was too good an opportunity to miss.  Their store was on the main street in Carmel – an obvious destination for the biggest gathering of high end car collectors in the country.  That being said, I went in not knowing what to expect.
At the time, I had only two other dealers, Westime in Los Angeles and Berger in Mexico City.  I had no intention of opening another dealer in California, but I went into it with an open mind.  At the very least, it was a great opportunity to show some of our pieces to potential collectors.
I made my first sale within ten minutes of walking in the door – before the store opened.  How?  The owner, Lawrence Kosick saw the Rose Gold and Ceramic HM2-CR that I had with me and it was love at first sight.  From then on, the next couple days were a pleasure.  I got to meet great collectors and the staff at the store could not have been nicer and more accommodating.  Before I left, they asked to place an order and become a dealer.
Now I had a dilemma.  Do I open my second dealer in the country, both in California?  It makes no sense.  On the other hand, I like the people involved and I like what they are doing.
Lawrence was an early employee at one of the big Silicon Valley companies.  A watch lover, he decided to open a watch store after he left.  They also have developed CRM software for luxury companies and are at the forefront of online retailing.  While the store was initially in Carmel, the plans were always to move to Silicon Valley – they moved to Los Altos earlier this year.
One of the most fundamental characteristics of MB&F is its focus on people.  Luckily, I have the ability to follow that even in my choice of retailers.  And so, I decided to go with my gut and take the order.  Since then, we have enjoyed a nice relationship, even doing a great dinner event with Max over the summer.  While the choice to have two California dealers looked strange for a few months, now that we have someone on the east coast and with all of the interest we have in the tech world, I think the choice to have a store in Silicon Valley makes perfect sense.  For all of you tech guys, go over and check out some of the Machines!!