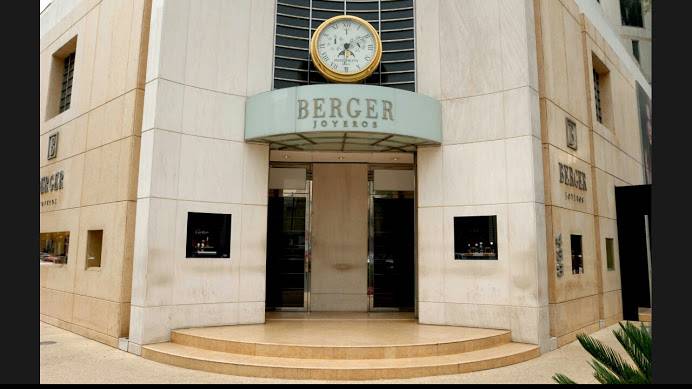 Deep Thoughts, MB&F, Retailers, Uncategorized ←
Retailer Week: Berger
Rewind back to September 2008.  Max and I had just decided to start MB&F North America.  I knew business and I knew watches, but I had zero experience with the watch business.
The organizer of SIAR, the great watch show in Mexico City, had invited Max to visit the Salon.  It was an invitation that Max was going to decline as he did not have the time in his schedule.  But now that I was on board we could do it.  So, within a few days of starting with the company, I found myself in Mexico City, at a major event representing MB&F.  I gave probably thirty interviews to various press in those few days and met everyone there.  It was truly being thrown directly into the fire and I loved it!
Of course the "Godfathers" of the Salon are the Bergers.  Berger Joyeros is the main jewelry and watch store in Mexico City.  Located on the "Rodeo Drive of Mexico", it is a family business that is nearly 100 years old.  They carry pretty much every brand you can think of including the big guns, Rolex and Patek.  If we were to ever sell in Mexico, Berger was clearly the store for us.
I was introduced to Mauricio Berger first.  While Ari, his son, now runs the store for the most part, Mauricio is always present and really sets the tone for the entire business.  I was a bit nervous.  The only watch I had with me was my Rose Gold HM2.  What was this older gentleman going to think of such a crazy watch?  I showed it to him half expecting him to wince.  Boy was I wrong.  Mauricio took the watch and started running it around and showing everyone there like a little kid with a new toy.  I knew then that I would get along very well with the Berger family.  Within a few months we took an opening order from them and have been working together very well ever since.
Now Ari, and his nephew Eric, are the ones I deal with the most, but Mauricio still gives us huge smiles every time he sees our new watches.  If you ever find yourself in Mexico City and want to see an amazing inventory of watches from every brand, Berger is worth the trip.  They are working on a major addition that will hopefully be ready to open sometime next year.