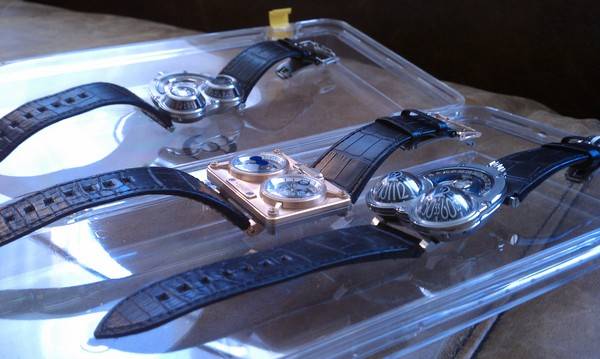 Cool Stuff, MB&F, Uncategorized ←
Photo shoot today with Tiempo de Relojes
Today I am shooting a feature for Tiempo de Relojes, one of the premier watch magazines in Mexico and the organizers of the Salón Internacional Alta Relojería which is, IMHO (in my humble opinion), the best watch show in North America.
They do a feature where they follow someone in the industry who shows them their favorite spots in whichever city they are from.  I'm honored to be their choice to tour my adopted home city, Los Angeles.  Of course I'll post the piece when it is ready.
Until then, check out this from one of their past issues where Eric Giroud, the designer who MB&F has worked with for HM1-4 and also of Opus 9 fame, shows us around Geneva.  Here is a PDF:
Also, a public thank you to Westime who lent me a Frog and an HM2 for the photo shoot.  We produce all of our pieces to order for our retailers and so we keep no stock.  Luckily Westime just got this Frog in stock (only the second one in the country) or there would be 10 pictures of my HM3.