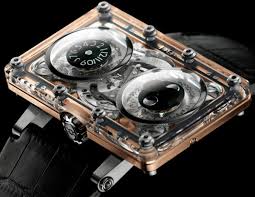 MB&F, Uncategorized ←
New "Performance Art" Launch Tomorrow
Tomorrow we will launch the JWLRYMACHINE, our fourth and final launch of the year.  You may have seen the teaser.

This year has been incredible for us.  As I said, four new product launches, all very limited, very successful pieces.  I thought we'd take a quick look back and look at what each piece says about MB&F in addition to explaining our three types of products.
In January we showed the HM2-SV.  HM2 is perhaps our most iconic piece to date, but if it has one problem it is that we cannot see most of its incredible movement.  For the SV (Sapphire Vision), we did the entire top plate in sapphire crystal – a true technical feat and a very stunning outcome.  This is an example of our first type of launch – the variation.  A variation allows us to experiment with different materials and ideas.  The goal is not to make a piece better, but simply shift certain qualities.  In this case, the sapphire is stunning, but a very different look to the regular pieces.  You could very justifiably have a preference for either over the other.
Next, 10 weeks later we showed The Frog.  Also a variation, this one was much more mischievious than the original piece.  It was born from the idea of the number domes turning underneath sapphire domes.  The particularly neat thing about this one to me is that the variation is the actual way of telling the time!  I can't think of a piece where that has been done before (although I don't doubt that it has).  Again, it is very different from the "normal" HM3's.
Next is our most important type of launch: the new Machine.  These generally take between 3-4 years of development and serve as the foundation for all of the other variations and collaborations.  The "Engine" is 311 parts – every single one unique to this movement.  The case is a true feat of engineering.  Just the middle block in sapphire takes 150 hours to machine: a creation that would not be possible were it not for the advances in sapphire manufacturing brought about with the HM2-SV and Frog.
Max says HM4 is the piece he is most proud of in his entire career.  As someone who knows him well – I understand that he means that in the truest sense of being proud – that of a personal achievement.  The fact is that very few people have the guts and self-confidence to make a piece like this.  Even up until the day of the launch, as cool as the piece is we were not sure if anyone was going to BUY it.  To stake the future of your company on a product like that is very impressive.  To date it has been a HUGE success.  We have pre-sold orders into late next year.
And that brings us to now, our Performance Art launch.  For all of the other pieces, we are the creators and our Friends help create them.  With the Performance Art series, we allow other creators to express something with our pieces as the platform.  So far we have done the Only Watch piece with artist Sage Vaughn and the HM2.2 Black Box with Alain Silberstein.  Each changed the piece into something that was only partly an MB&F.  The JWLRYMACHINE will do the same but in a very different way.  I'll talk about it some on Wednesday.
I would like to congratulate the team in Geneva and especially Max.  A year of product launches like this is extremely difficult to pull off.  All pieces have been delivered in time and we have had no serial quality problems.  I hope you all have enjoyed watching all of these new releases and you enjoy the new piece tomorrow!