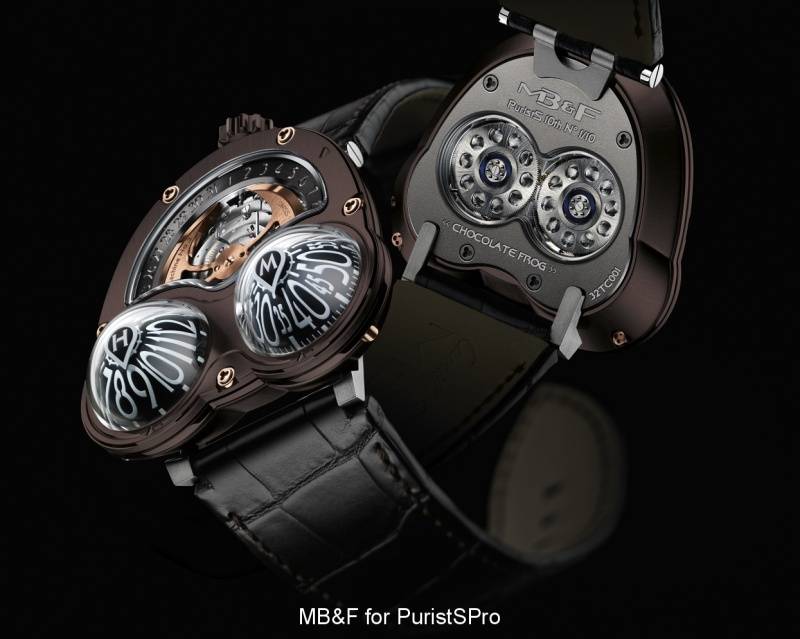 Cool Stuff, Deep Thoughts, MB&F, Uncategorized ←
Never Forget Where You Come From
This is a copy of a post that I made yesterday on PuristSPro.
On Monday, we had the pleasure of announcing The Chocolate Frog, a special edition of 10 watches we are making to celebrate the 10th Anniversary of ThePuristS and PuristSPro. This collaboration is of particular significance for me and is something I have been working towards since the day I started with MB&F.
I am a Purist. In 2004, when I moved to Los Angeles, I was a budding watch collector – just starting to travel down the rabbit hole of information available on the internet. A young Contemporary Art fan in casual LA, once I became aware of the world of Independent, "Contemporary Horology," I was hooked. There simply was (and there still is) no better source for information on the planet than ThePuristS.
I started going to the Los Angeles get-togethers and quickly made friends with the tight group of LA PuristS. The founder, Thomas Mao, welcomed me with open arms even though my horological knowledge was mediocre, my watch was not overly impressive, and I was probably 10 years younger than anyone else there. It was the combination of the community and the information that got me really hooked on watches. From there, I learned as much as I possibly could about every watch, every brand and everyone involved – never missing a PuristS event or a chance to learn more. I even met Max Busser, the founder of MB&F, at a PuristS dinner before the launch of HM1 and again to launch the brand and HM1.
Of course, at the time I had no intention of ever working in the watch industry. I just loved watches, loved the work these creative Independents were doing, and loved ThePuristS for providing me with an incredible resource to sink into. After I moved on from my last business I decided to take some time off and focus on my passions. This allowed me to get even more involved with watches. I started the TimeOut forum and was both a general moderator and TO moderator. I also joined ThePuristS Executive Staff to help with the transition to PuristSPro. It was in that capacity that I got closer with Max Busser, who I had met earlier and stayed in touch with. The rest is history. Two and a half years later, MB&F has clearly cemented its spot as one of the leaders in the genre, tremendously raised visibility even outside of the niche watch collecting world, and even recently won the Grand Prix d'Horlogerie!
So, amazingly, the PuristS literally changed my life. I have learned an incredible amount (not only about watches!), met wonderful people, and had great adventures. The first thing I did when I joined MB&F was to get the ball rolling on a special piece for ThePuristS. Two years later, we have found a perfect opportunity. This is not just a limited edition for me, but a very personal statement of gratitude. Thank you Thomas and the rest of the team. Without you, brands like MB&F would most likely not be able to exist, and I certainly would not be here writing this.
I hope you guys like the piece. I have to say, I really want one for myself, so I won't be too disappointed if they only sell 9 😉
I can't wait to meet all the new owners and those of you who I have not yet met next year in Las Vegas at IGOTT2!
Sincerely,
Steve Hallock
President
MB&F North America