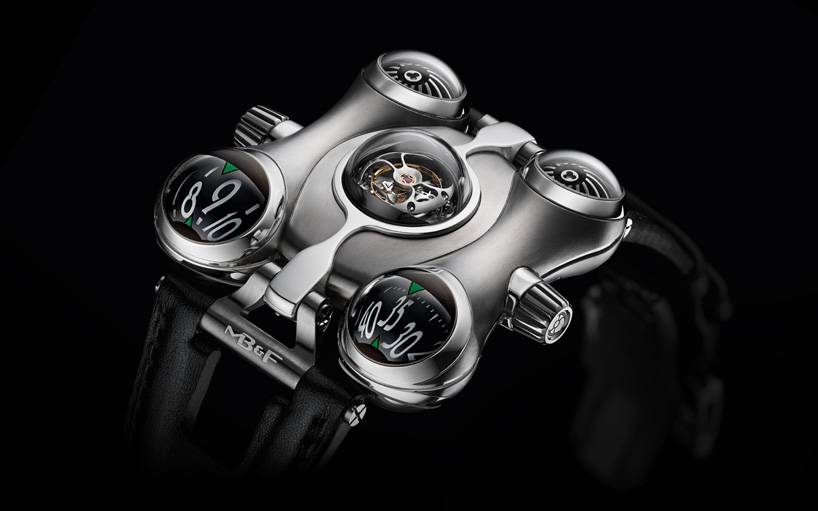 Deep Thoughts, MB&F, Uncategorized ←
MB&F: The Elevator Pitch
The finance world has a concept called "the elevator pitch".  The idea is that if you want to raise money for your company, you should be able to clearly explain it in the span of an elevator ride.
I get put to roughly the same task at these public events.  To properly tell the story of MB&F and sufficient background on the pieces takes a minimum of 30 minutes.  I know because every year I do about two hundred 30 minute press appointments.  But at a public show people walk up to the booth, want a quick education and then are off to the next thing.  The whole reason I do the shows is to tell the story, but if I take 30 min of their time they are not going to be happy.  So, after I give a bit of background on Max and explain the concept of the friends, here is the best way I have found to explain our pieces:
As children, most of us (boys and a few girls) sketch cars, boats, guns, swords and maybe even watches.  We sketch them as we WISH they would be – the coolest things we can think of without regard to cost, manufacturing difficulties, etc.  Then, inevitably, we grow up, get "sensible" and have to face the realities of the marketplace.  At MB&F we basically shun any of the outside concerns saying "get sensible" and make those watches a reality, whatever it takes.
And, as a corollary, the people who buy our watches tend to be the type of people who remember their childhood imagination and get deep satisfaction out of the fact that someone has dared to let that creativity exist unrestrained and follow each project through to as high a level of quality as possible – just as we would have as children.