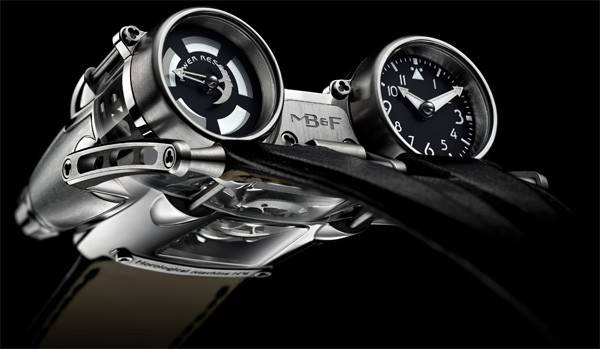 Cool Stuff, MB&F, Uncategorized ←
Grand Prix d'Horlogerie: Design and Concept Watch
As I mentioned yesterday, the Grand Prix d'Horlogerie will take place tonight in Geneva.  Today I'll tackle what is almost always the most interesting category, Best Design and Concept Watch.  Again, go here for all of the nominees.
Ok, obviously I am biased.  First of all, MB&F has two watches nominated in the category: HM3 Frog, and HM4 Thunderbolt.  For that reason, I expect that most people will discount my opinion.  However, I have a countering bias.  I have been primarily interested in these Concept type watches for six years and have spent my own money on many of the other brands (I even own an URWERK 202 which is very similar to the 203 nominated).  For those who know me personally, I think it is clear that I work with MB&F because I love what they do rather than loving what they do simply because I work with them.
With that out of the way, I will say that there are two watches that are far ahead of the pack, and no, it is not the two MB&F's.  I absolutely love the HM3 Frog.  In fact it would probably be my choice out of our entire collection if I wanted to daily wear a watch.  However, at the end of the day it is a variation on a platform we have already shown and therefore I do not believe it deserves the Concept Watch prize.  Same goes for the URWERK 203, Freak Diavolo, and B&R.
No, the clear winner to me should be the MB&F HM4.  In the history of haute horlogerie, no one has ever created a movement or a case like it.  It represents the absolute best in available manufacturing and finishing capabilities and is emblematic of the shift in watches from tools to sculptures.  I happen to know how difficult this project was to execute, both in physically producing all of the parts, and the risk-taking self confidence necessary to put three years and a company representing multiple peoples' entire professional lives and savings into such a risky product.  It is a result of Max's complete history in the industry, one that has helped this Concept Watch category matter in the first place.
So who would I choose if I weren't allowed to pick an MB&F?  Well, I think second place is clear too: Devon Tread 1.  I have seen this watch in person, and it is COOL!  It fits the category perfectly as it is a watch that breaks paradigms.  It is the first watch made in the USA that has ever been nominated for the GPdH.  It uses a combination of electrical motors and mechanical belts and recharges through induction.  The Devon guys should be very proud of what they have created.
Good luck to everyone nominated.  I hope the judges make good decisions.  I'll report the winners tomorrow.