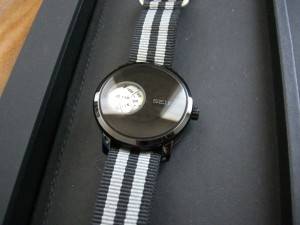 Cool Stuff, Uncategorized ←
Contemporary Horology on the Cheap
An unfortunate side effect of my tastes for creative mechanical watches is that they tend to be very expensive.  I thought today I would highlight a piece I love that can be had for less than $1000.
It is called the Seiko Discus Burger.  Only available in Japan, I assume the name is a poor translation: discus for the way the time is displayed on discs, and burger as the case is constructed of three pieces sandwiched together like a hamburger.  I was originally introduced to this watch via a post on PuristsPro (much better pictures at that link!).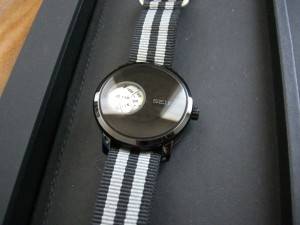 The case is shiny black coated steel.  On both the front and back are dark smoked crystals with transparent circles.  The time is told by three discs: seconds, minutes and hours.  The smoked glass appears translucent at certain angles, exposing the discs turning underneath.  At other angles it is nearly opaque.  The glass is very remeniscent of the sapphire used in the Lange Zeitwerk Luminous and the time-telling mechanism has an URWERK feel to it, albeit without the complexity of moving shifting the rotating axis from the center.
On the back is the same smoked crystal.  The open section highlights the balance works.  I wear it on a Zulu strap, but it comes on a black leather strap with a remarkably nice deployant buckle.
A big art collector once told me that in order to see if a piece of new work is good or not, he displays it next to an unquestionably good piece.  If it holds up, it makes its way into the collection.  Let's check out the Seiko next to a couple of the Titans of Contemporary Horology.
Here you can clearly see the inspiration:
And here we get a bit more three dimensional:
Group shot: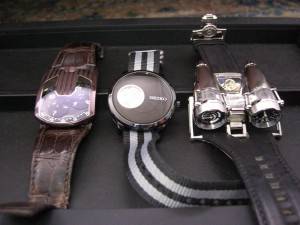 Well maybe it doesn't quite hold its own with the big boys, but it is a very fun watch to own and to wear.  To make a watch of this high quality with this much creativity at this price point is truly amazing.  I hope to see more efforts like this in the lower price ranges as manufacturing becomes cheaper.  Of course the real exotic watches are super cool, but I love to see Contemporary Horology that is within reach of "normal" people.  It certainly fits well in my collection and on my wrist: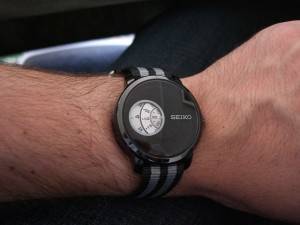 many apologies for my horrible photographic skills.  one day I will learn to use Photoshop and a proper camera so I can do these fine pieces justice.