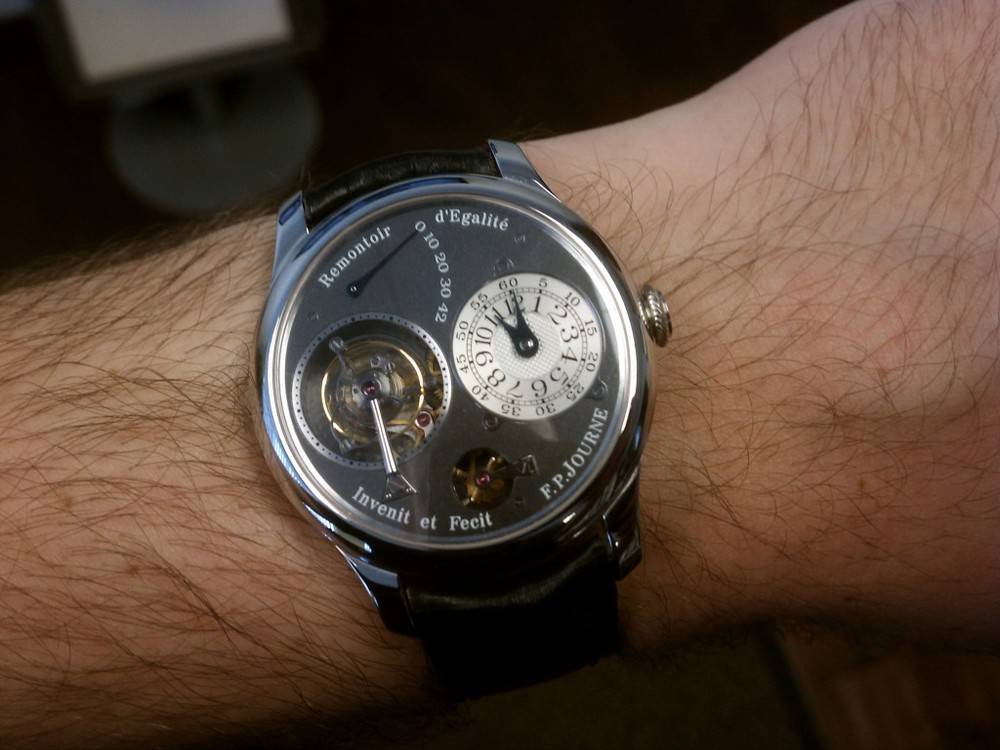 Collecting History, Cool Stuff, Uncategorized ←
Collecting History: FP Journe Tourbillon Souverain
If there was one overdone trend in the last 10 years, it was the tourbillon.  Modern production techniques made commonplace what was once the ultimate show of a watchmaker's skill.  Combined with buyers' willingness to spend more money on watches, as I discussed yesterday, tourbillons provided the perfect opportunity for companies to sell extraordinarily expensive watches that will eventually hold little historical interest.
None the less, the tourbillon is a beautiful complication when executed correctly.  This time was also a golden age for jaw-droppingly gorgeous tourbillons.  In my mind, none are better than the FP Journe Tourbillon Souverain.
Francois-Paul Journe is perhaps the most important independent watchmaker of the period.  He is a man who has a clear vision of what he wants to create, and very explicitly does not care what the rest of the world thinks.  This is a common trait amongst creators who create historically significant pieces – one that is shared by Felix, Max and a few other staples of the industry.  An AHCI watchmaker, Francois Paul has created a true throwback company – a living watchmaker who has created a real, global brand.  Abraham Louis Breguet would be proud.
We are still in the early days and I believe many of these early Journe pieces will be historically significant in times to come.  That being said, I have particular preferences which have been reflected in my collecting.  As far as versions are concerned, I tend to prefer the older pieces, before the gold movements were introduced.  They have a whimsical feeling of an early brand before it takes off, whereas the more contemporary pieces are clearly more polished and slick.  The Resonance is undoubtedly an important watch with one of the most beautiful movements in the world, but for me, the Tourbillon is the real winner.
Technically, it is still one of the most interesting tourbillons produced – a completely manufacturer movement with a huge tourbillon, beautiful cage, and a remontoir d'egalité.  I believe they are one of the biggest bargains on the market.
When I buy a watch and think of its historical significance, I like to imagine myself paging through an auction catalog 20+ years from now.  Second hand values now are of no real importance (Van Gogh paintings were cheap for a long time!).  What matters is when you look through that future catalog and see a watch that truly represents the best of an era.  Here you have the most successful independent watchmaker in the golden age of independents, the early piece that launched his company, and the most beautiful tourbillon of the tourbillon era.  To me, this is a no-brainer standout in that catalog.
Plus, name me a "classic" watch that is nicer than this Ruthenium dialed limited edition version.  For my money, this is as good as a round watch gets.
Tomorrow, I'll continue the series and get into the real exotics with URWERK.  Stay tuned…